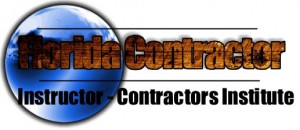 I am an instructor for the Contractors Institute!  (self proclaimed best looking one too!) We teach both examination preparation and continuing education for all contractors in Florida, Georgia, Alabama, and others. You can always contact us at our TOLL FREE NUMBER 1-877-LICENSE or email me . If I can't answer a specific question for you I can put you in contact with someone who can. We also teach classes for Home Inspectors, Mold Services, EPA Lead Certifications, and many specialty classes.
I'll post some personal rants, so this in no way reflex's the opinion of the Contractors Institute. I teach classes for General, Building, Residential, Roofing, Underground Utilities, Swimming Pool, Carpentry, Painting,  Home Inspectors, EPA LEAD Certification, and many more. I also teach many of the Continuing Education courses. Feel free to contact me if you have any questions about any license.

Become a member of , The Association of Construction Industry Certified Professionals. Membership is $25 annually,  so go ahead and become a member!